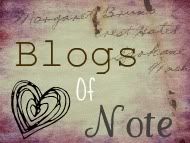 So my friend Courtney over at
Storing Up Treasures
started a Blogs of Note promotion. Basically the concept is promoting your blog to gain readers. So here is my attempt to self-promote!
I love Courtney's blog, her honesty, her rawness. Courtney and I went to the same church here in New Jersey, it's funny we were not friends way back then, because I often tell her that if she was here or I was there we would definiteley be friends. Our lives just didn't cross when she and the Rockstar lived in NJ. I was more friends with her mother, Joy. Her mom led the single mom's group at church. Joy was a great support to me and my children. We talked on the phone a few times and sorted things out.
I remember when I first came to Grace (Grace Christian Church) I would often sit behind Courtney, the Rockstar and their small children. Autumn was two years old back then and would often be found sound asleep on my shoulder. I remember when they adopted Gayla and Mikie and I believe Courtney was pregnant at the time, I thought they were so cool :). I thought, "Now that is how you serve God". I admired them.
Courtney soon left the chruch and then her mom did. I never did get to connect with her or the Rockstar but by the fantastic world we call the internet we have connected. I consider her my friend and often pray for her and her family. I'm over joyed that her mother recently married. I know it was the desire of her mom's heart to grow old with someone.
So if you want to promote your blog, head on over to
Courtney's page
. It might just be worth it!